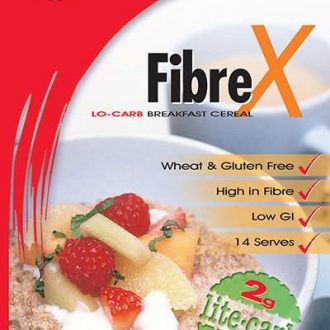 Now there's more to a low carb breakfast than just bacon and eggs…
Only 2 grams of carbohydrate per serve.
High in fibre to help keep you regular.
Delicious hot or cold.
Ready in under 2 minutes, so there's no excuse for missing breakfast.
Wheat and gluten free.
FibreX Breakfast Cereal uses ingredients like almonds, linseeds and sunflower seeds that contain beneficial monounsaturated fats.
Each box contains 14 serves.
Serving Suggestions:
Mix FibreX Breakfast Cereal with hot or cold water.
Sweeten to taste with a low carbohydrate sweetener.
If desired, top with a low carbohydrate yoghurt.
Add some low carbohydrate fruit such as strawberries, raspberries, grapefruit or rock-melon.
Ingredients:
WHEY PROTEIN CONCENTRATE, SUNFLOWER SEEDS, LINSEEDS, ALMOND MEAL, SESAME SEEDS, PSYLLIUM SEED HUSKS, DESICCATED COCONUT, POLYDEXTROSE.
What is polydextrose?
Polydextrose is a very low GI, wheat and gluten free ingredient that is 90% dietary fibre. Polydextrose is classified as a "pre-biotic" and can help promote the growth of beneficial intestinal bacteria.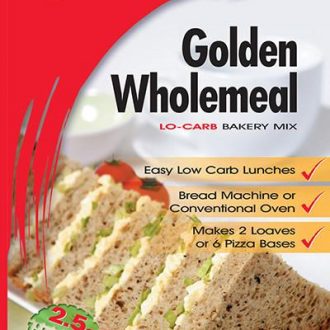 Who says you can't eat BREAD and PIZZA on a low carb diet?
People once told us you can't eat bread or pizza on a low carb diet. We didn't believe them, and neither will you once you've tried our Golden Wholemeal Bakery Mix.
Not only have we developed the best tasting and lowest carb bread in Australia, but the same mix can also be used to make delicious low carb pizza bases. Now you can enjoy eating toast, a sandwich, a hamburger (complete with bun) and delicious pizzas – all without compromising your low carb diet!
Each pack makes 2 loaves of bread or 6 delicious pizza bases. Each slice of bread contains only 2.5 grams of carbs! It can be made using a bread machine or a conventional oven with the help of a food processor.
As with all our products, we have extensively tested the Golden Wholemeal Bakery Mix with dieters following a variety of low carb programs. Their feedback clearly proved that including low carb bread as part of their diet had the following benefits:
Lunch is traditionally a hard meal to find a low carb alternative to, especially when away from home. Our bread mix provides dieters with more traditional lunch options that they can take with them each day – like a low carb salad sandwich or roll.
Our bread was specifically designed to toast to a wonderful golden crunchy texture – giving dieters back the "crunch" they have been missing. This makes it a fantastic low carb breakfast for people in a hurry.
Our mix is packed with the natural goodness of a wide variety of seeds and grains.
We deliberately fortified our bakery mix with fibre to ensure low carb dieters get enough fibre in their diet.
Of course the greatest benefit of all was increased compliance with the diet, because they no longer felt that they were missing out on an integral part of their "old diet".
Ingredients:
WHEAT GLUTEN, WHEAT PROTEIN ISOLATE, CORN STARCH, WHEAT BRAN, SOY FLOUR, WHOLEMEAL FLOUR (5%), LINSEED, SUNFLOWER SEED, SOY FIBRE, SALT, POPPY SEEDS, WHEY PROTEIN CONCENTRATE, EMULSIFIER (221), THIAMINE (VITAMIN B1). Contains milk, soy and wheat derivatives.