This super enriched night cream will help reduce and soften fine lines. It works while you sleep to hydrate and moisturise, leaving your skin smooth, soft and glowing. When you wake, just run your fingers over your face to feel the difference!
Manuka Firm is a deep penetrating night cream, so you know all its wonderful vitamins, antioxidants and active Australian Manuka honey are getting right down to where they are needed most. It will also plump the skin, reduce redness and help rid your face of unsightly blotches. And it won't clog your pores.
Fight the signs of ageing with Manuka Firm.
Revitalise tired and dull skin with Manuka Refresh, our lightweight and refreshing spritzer and toner.
This all natural mist will calm and clarify the skin, as well as close your pores after cleansing. Its soothing formula leaves your skin feeling fresh and fabulous.
Manuka honey, Lilly Pilly, Kakadu Plum and Vitamin C make this a highly moisturising toner that purifies and hydrates. And it smells divine too!
Suitable for all skin types, Manuka Refresh tones and freshens for a healthy complexion.
Once you use Manuka Refresh you will not be able to do without it.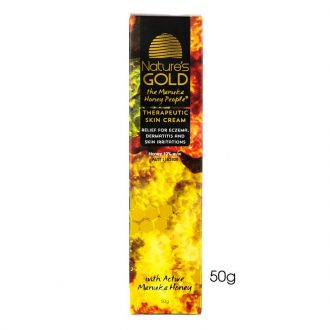 Therapeutic Skin Cream with Medicinal Manuka Honey
Discover the healing and soothing qualities of our specially formulated Therapeutic Skin Cream.
Fortified with medicinal grade active Manuka honey this powerful skin cream makes the perfect treatment for eczema, dermatitis, dry skin, cracked heels, bruises, cuts and abrasions.
Listed with the Therapeutic Goods Administration, our all natural Therapeutic Skin Cream provides relief from a variety of common skin conditions and complaints, including:
Eczema
Dermatitis
Sun and wind burn
Insect bites and stings
Cracked heels
Cuts and scratches
Minor burns and scalds
Dry and cracked skin
Nappy rash
Repair, moisturise and protect your skin today, with our Manuka honey enriched Therapeutic Skin Cream.