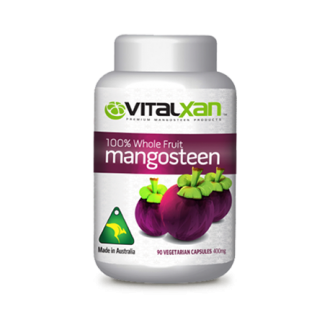 Australian Made Mangosteen Capsules packed with Polythenols & Xanthones  – Premium Brand since 2003.  A powerhouse of nutrients with over 40 Antioxidants.  The richest form of Xanthones, a special class of super-strength antioxidants, offering benefits to every system within your body.
Benefits 
Are you feeling flat, or tired?  Are you in need an energy boost?  Imagine running your car without an oil change – yes it would break down!  VitalXan Mangosteen is a powerhouse of nutrients, with over 40 antioxidants called Xanthones.  IThe3 product is also rich in Polythenols and Amino Acids which ensures immune support and energizes bodily function.
Vitalxan Mangosteen powder is a food.
Vitalxan is tested in a TGA approved laboratory at The National Measurement Institute. Melbourne for its high ORAC value.It is also tested and certified 'Free' of heavy metal, pesticide, and chemicals. Lactose and Gluten Free and Diabetic friendly.
Magosteen Capsules effect a balanced metabolism in the body and achieve a delicate equilibrium of metabolic hormones, all we need is a well-balanced multi-vitamin program, and strong antioxidant support.
Mangosteen is l one of the most popular tropical  fruits, containing an impressive list of essential nutrients and antioxidants for overall well-being and nutritional benefits
Antioxidant Support
Support the immune system and cellular functions.
Support joint function through its natural nutrients.

Provide antioxidant support by neutralising free radicals.

A maximum source of vitamins, rich in dietary fibre, with no saturated fats or cholesterol.

Enhances mood and provides a sense of well-being.

Boosts energy and protects the body from oxidative stress.

Mangosteen Xanthones balance the body's immune system, fighting disease.

Mangosteen should be a daily 'priority food supplement'

5 times stronger in Polythenols than any other mangosteen powders we have tested