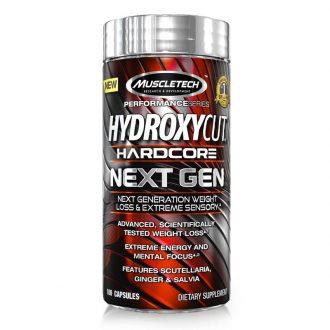 Hydroxycut Hardcore Next Gen by Muscletech lives up to the Muscletech reputation for extreme results. This product is the ULTIMATE fat burner with a unique combination, never before seen, of thermogenic ingredients designed to take your fat burning journey to the next level. Quality thermogenic ingredients are not the only thing this product has going for it though, Next Gen also contains potent neuroenhancers providing powerful mental acuity to keep you focused during and after your workouts.
What's in Hydroxycut Hardcore Next Gen?
Camellia sinensis (Green Tea): is the classic fat burning ingredient known to aid in weight loss by activating molecules in the body that allow you to burn more fat more efficiently. Epigallocatechin gallate is the antioxidant in green tea that you have to thank for all the fat burning properties of this ingredient. This particular antioxidant has been shown to boost metabolism and hence aid in effective fat burning. Green tea is also a good source of clean, natural energy.
Skullcap: is a Native American plant used to decrease anxiety and increase mood without having the side effect of decreased energy. The plant also contains many flavonoids, molecules known for their anti-inflammatory properties.
Coffee: Although surrounded by it every day, caffeine is actually one of the major ingredients behind most fat burners. Many studies have shown caffeine to increase fat burning and improve physical performance. Caffeine also acts as a potent neuroenhancer, increasing mood and concentration. Next Gen contains both Coffea arabica and Coffea canephora, both powerful and clean sources of energy and mental focus.
Red Sage (Salvia miltiorrhiza): is an ancient Chinese herb used to promote a healthy cardiac and circulatory system. The biochemicals in the plant improve blood flow to muscles and organs by dilating blood vessels as well as lowering blood pressure. By improving blood flow and blood pressure, red sage helps the body flush to out free fatty acids remaining in the system after training, therefore aiding the body to burn excess fat.